Items filtered by date: Oktober 2018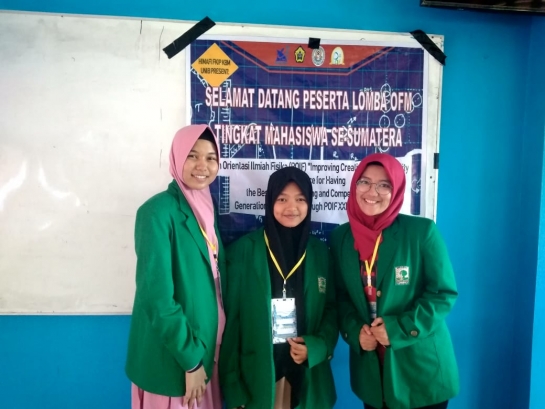 (Padang-Fisika Unand) Universitas Bengkulu kembali melaksanakan Olimpiade Fisika Tingkat Mahasiswa (OFM) se-Sumatera pada tahun 2018. Kegiatan yang ditutup pada tanggal 26 Oktober, digawangi oleh Hidup Mahasiswa Himpunan Mahasiswa Fisika FKIP KBM Universitas Bengkulu. Kegiatan ini dalam rangkaian acara Pekan Orientasi Ilmiah Fisika XXI Plus 2018 bertemakan: "Improving Creativity and Capability Physics Science The Best Critical Thingking and Competence Generation of Physics Through POIF XXI Plus 2018". Dalam lomba ini Jurusan Fisika Unand melalui kelompok pencinta sains Himpunan Mahasiswa Fisika (HIMAFI) yang tergabung dalam AYO Team mengirimkan 3 orang delegasi yaitu Bunga Aprilia,  Fadilla Monica, Puti Berkah Azurah.
(Padang-Fisika Unand) Sebanyak 2 orang mahasiswa Program Sarjana (S1) Jurusan Fisika FMIPA Universitas Andalas mengikuti program pertukaran mahasiswa (Student Exchange)  ke  Jepang selama satu bulan. Program ini berlangsung dari tanggal 10 Oktober-7 November 2018. Universitas yang mereka kunjungi adalah Universitas Ibaraki.  Ketua Jurusan Fisika, Dr. techn. Marzuki  mengucapkan selamat dan memberi apresiasi kepada mahasiswa yang telah terpilih untuk mengikuti program student exchange ke Negara Matahari Terbit tersebut. Menurutnya, dengan mengikuti program ini akan menambah pengetahuan dan pengalaman serta wawasan mahasiswa tentang dunia internasional.